Estimados,
os presento el segundo disco de una banda muy muy fresca de Inglaterra:
The Go! Team
La forman 6 miembros (curiosamente el grupo tiene 2 baterías) y sus canciones parecen salidas de una película de acción con ligeros toques de hip-hop. Utilizan diversos samplers para sus actuaciones en directo que combinan sabiamente con la voz propia de sus instrumentos.
Una banda realmente directa, que te deja un pelín KO por la fuerza y vitalidad de sus temas. Sin embargo se agradece la descarga de energía y más cuando la actividad musical comienza a aumentar exponencialmente a partir de septiembre. Aunque estos temas son de su último album, quizás alguno de los que ya tienen puedas conocerlos porque se han utilizado intensivamente en series de TV.
"Ian Parton conceived the project after wanting to create music incorporating his favourite things including Sonic Youth-style guitars, Double dutch chants, and car chase horn music. He started jamming these sounds together and eventually recorded Thunder, Lightning, Strike in his parents' kitchen.

Thunder, Lightning, Strike
The Go! Team's first full-length album, Thunder, Lightning, Strike, was released in UK and Europe on the Memphis Industries label in September 2004, to widespread critical acclaim.

Ian Parton recruited a band in order to play as a supporting act for Franz Ferdinand.The live band became a "separate entity" to the original studio vision, as the performances became radically different to the recordings, particularly due to Ninja's freestyled vocals contrary to the sampled vocals present on the album.

The album was nominated for the Mercury Music Prize in 2005, which coincided with a international release of a "legal" version of the album wherein the album was partially re-recorded, replacing samples which could not be cleared for commercial use with alternatives.

The band's popularity increased with the re-issue of "Ladyflash" in the UK charts, resulting in national prime-time airplay on radio stations such as Radio 1 and the Atlanta, USA based 99X.

On the 13th of May 2007, The Go! Team announced the release of their new single and subsequent album on their website.

The single, "Grip Like a Vice", was released on 2 July 2007, and the new album, called Proof of Youth, was released on 10 September in the UK and a day later in the US."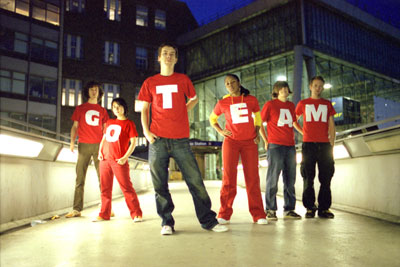 Grupo: The Go! Team
Disco: Proof Of Youth
Año: 2007
Web oficial:
The Go! Team
Canciones destacadas: Keys To The City, Fake Id, Titanic Vandalism y I Never Needed It Now So Much