Estimados,
para acabar la semana y antes que Eurovisión nos atrape irremediablemente, aquí os dejo un par de temas de un grupo inglés:
I Am Kloot
I Am Kloot es un grupo de música fundado en 1999 en Manchester, Inglaterra en el club Night&Day.
John Bramwell
trabajaba allí como organizador de conciertos y allí conoció a los otros dos miembros del grupo: Andy Hargreaves y Pete Jobson. Se dieron el nombre I Am Kloot y pertenecen al llamado New Acoustic Movement. Dieron su primer concierto en 1999. Su primer album Natural History apareció 2001, y el segundo I Am Kloot dos años después. Ahora vienen con fuerzas renovadas y el disco que hoy os presento.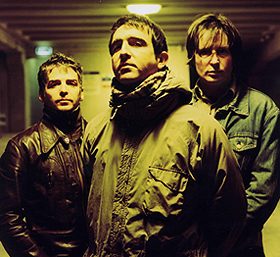 "John Bramwell es el alma de esta agrupación, y junto con Andy Hatgreaves y Peter Jobson forman I am Kloot, una banda cuyos orígenes se remontan a finales de los 80. Desde Hyde, un suburbio de Manchester, han sabido camelarse a la prensa inglesa tanto por sus dulces y limpios directos como por la alta calidad de su álbum debut "Natural history" (We love you/Virgin, 01), un disco intimista, acústico y sencillo, grabado en una rústica granja en la Isla de Mull. Autodidacta con la guitarra, Bramwell pudo combinar sus viajes por todo el mundo con su afición por la música, y una vez establecido de nuevo en Manchester se encargó de crear el The Night and Day café, una plataforma para músicos noveles en la que tuvo la ocasión de conocer a los que ahora son componentes de la banda, Pete y Andy. Sus primeras composiciones tuvieron una masiva aceptación, tanto su primer single 'Twist' como las diferentes aportaciones a compilaciones varias, que hicieron de I am Kloot una banda de renombre. La madurez vocal de John y la intensidad con la que dota sus composiciones hacen que esta banda consiga transmitir mucho más que simples letras y estremezcan al público cada vez que suben a un escenario. 'Twist', 'Sunlight hits the snow', 'To you' o 'Morning rain' apuntan a convertirse en auténticos clásicos del pop. Representantes del new acoustic movement, I am Kloot, vienen a presentar su nuevo álbum,"I am Kloot" (Echo/Pias, 03) que saldrá a la venta a mediados de septiembre. Un segundo trabajo que promete la misma intensidad que el anterior, combinando historias de amores encontrados -y siempre perdidos- con un toque oscuro perfecto.
Melodías pop donde siempre imperan la riqueza melódica y lírica.
--------------------------------------------------------------------------------Formados en Manchester y englobados bajo el New Acoustic Movement, I Am Kloot son todo un ejemplo de banda sincera y madura. Sus suaves estribillos, entroncan con los de otros representantes del NAM como Kings Of Convenience, Turin Brakes o los también mancunianos Lowgold. Pero I Am Kloot conquistan especialmente por sus limpios directos: la voz nocturna de Bramwell, el tempo jazzy de la batería, y la habilidad melódica del guitarrista Pete Jobson, les han servido para camelarse a todos los afligidos de corazón. Su casero y alabado álbum debut "Natural History" (We Love You/ Virgin, 01) se complementó en 2003 con el más épico "I Am Kloot" (Echo/ PIAS, 03), en el que se reafirmaban como grupo gracias a viñetas acústicas de amores perdidos y a esa lírica oscura que los convierte en los mejores valedores del folk urbano contemporáneo. Acaban de editar "Gods And Monsters" (Echo/ PIAS, 05), un disco intimista en el que tejen orgánicos retales pop gracias a teclados vintage, algo impensable en sus austeros comienzos."
Grupo: I Am Kloot
Disco: Play Moolah Rouge
Año: 2008
Web oficial:
http://www.iamkloot.com/
Canciones destacadas: Ferris Wheels, Chaperoned y Hey Little Bird