Estimados,
aquí os dejo un par de temas que se pueden extraer de un grupo con claras referencias heavys pero que ha sabido perpetuar un sonido parecido a Dinosaur Jr. y que tildaría como 'sonidos de potencia contenida y sutil puesta a disposición'.

Según se definen en la web de su discográfica son un grupo revival de rock and roll liderados por 2 hermanos cantautores (Brad & Courtney).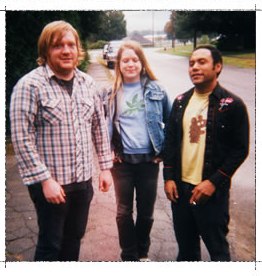 "Blood on the Wall is a lo-fi, Brooklyn-based indie rock band, influenced by bands like The Jesus and Mary Chain, Pavement, Pixies, and Sonic Youth. Band members include siblings Courtney (bassist/vocalist) and Brad Shanks (guitarist/vocalist) and drummer Miggy Littleton. They have released two full-length albums, Blood on the Wall (2003) and Awesomer (2005). Blood on the Wall are signed to the Brooklyn based label The Social Registry.

The band toured with Yeah Yeah Yeahs in 2006.

Discography
Blood on the Wall (2003)
Awesomer (Social Registry, FatCat) (2005)
Liferz (2008) "
Grupo: Blood On The Wall
Disco: Liferz
Año: 2008
Grupo: Blood On The Wall
Disco: Liferz
Año: 2008
Web oficial: http://www.bloodonthewall.com/ y http://www.myspace.com/bloodonthewall
Canciones destacadas: Lightning song y Rize