Planazo el día 22 de Noviembre.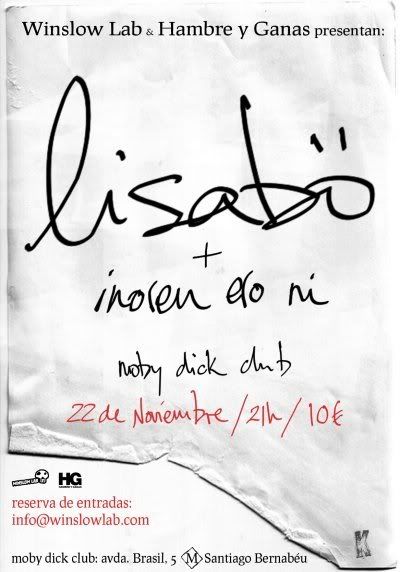 Primero tenemos el concierto de
Lisabö + Inoren Ero Ni
en
Moby Dick Club
- Madrid 10€ a las 21:00.

Tras el llenazo absoluto que se dio el 16 de febrero en Moby Dick, Lisabö quieren ir despidiendo su gira 2008 sin perder la oportunidad de volver a pasar por las entrañas de la ballena, donde, además de ofrecer un concierto de categoría, tuvieron un reencuentro muy agradable e inolvidable con el público madrileño después de 7 años sin visitar la capital.

Esta vez les acompañarán los también vascos y compañeros de sello Inoren Ero Ni, grupo formado por miembros de Bap!! y Purr.

Y después de este concierto, nos vamos a La Pequeña Bety. Por 7 €uros nos metemos de lleno a un homenaje a los Kinks.

El 22 de noviembre de 1968 los Kinks publicaban su album "Village Green Preservation Society" y con motivo del 40 aniversario de la publicación de este disco de los Kinks, Jose Casas y miembros de su banda Jose Casas y la pistola de papá, y otros dos músicos rinden homenaje a la banda británica montando la banda paralela "VILLAGE GREEN EXPERIENCE", donde recrean las canciones de dicho album y sus grandes canciones.
Me han chivado además que existirá la colaboración especial de componentes de bandas de la capital como: Los Imposibles, Fortune Tellers, Delco, Sara de Rubia, The Seasong, Sr Miyagi que se sumaran a la fiesta intrepretando junto a The Village Green Experience algunos temas.
Asi que el 22 no hay excusa para no salir.
¿Te apuntas?