Estimados,
aquí recojo el comentario pertinente de la web '
Hypersonica
' (
http://www.hipersonica.com/
) en donde se destaca con mucho criterio el disco que hoy os presento. Como resumen decir que
la electrónica en un formato semi-duro llega hoy a vuestros oidos
.
"Mark E. Smith, cabeza pensante de los imprescindibles The Fall, y los alemanes electrónicos Mouse on Mars se han unido para crear el disco que a LCD Soundsystem no le sale (y ahora que se arrima al sonido U2 aún menos). Bajo el nombre de Von Südenfed y con el disco Tromatic Reflexxions, el trío calavera ha creado un sonido de baile chulesco, quebrado y muy macarra.

Fledermaus Can´t Get It, primer tema del disco, engancha rápidamente encajando todos las piezas de este puzzle. Sobre un ritmo destinado a contagiarse a todos los huesos de tu cuerpo y ruiditos electrónicos, Mark E. Smith se pone su careta habitual (la de chulo de barrio) y escupe sus textos. Tan pegadiza como el Heart Of Hearts de !!!.

La fórmula funciona en otras muchas canciones. En Flooded aplicándole unos cuantos ritmos rotos, en Family Freud dándole pátina de R&B lujoso a los Missy Elliot, en The Rhinohead aplicándole una melodía pop y dejando por los suelos a los mediocres Kasabian.

Puede que al disco le venza su extensión y su falta de variedad (ahí alivian el tema Chicken Yaiamas o Dearest Friends). Puede que el experimento les hubiese quedado mucho mejor en formato corto. Pero es el disco ideal para ponerte contento mientras te preparas para salir de juerga y para hacer el cafre a altas horas de la noche. ¿Qué más se puede pedir de un pasatiempo temporal hasta para sus propios creadores?"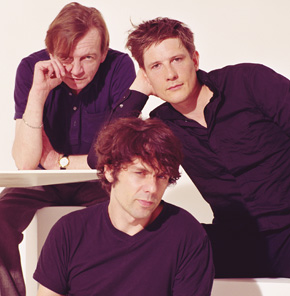 Grupo: Von Südenfed
Disco: Tromatic Reflexxions
Año: 2007
Web oficial:
http://www.myspace.com/vonsudenfed
Canciones destacadas: Flooded, Fledermaus Can't Get Enough, Dearest Friends y The Rhinohead