Estimados,
recojo los comentarios de la web 'Hipersónica', ya que el artículo que publican acerca del grupo que hoy os presento (
Okkervil River
) es mucho mejor de lo que yo os podría explicar.
"Los tres discos ya publicados de Okkervil River han situado al líder de la banda Will Sheff como uno de los compositores de más talento y menos apego a los convencionalismos musicales que pululan por la escena indie rock del momento. Situados desde hace años como uno de los mejores grupos poco conocidos del panorama internacional, el lanzamiento de su anterior Black Sheep Boy empezó a darlos verdaderamente a conocer, y este The Stage Names puede ser el empujón definitivo que necesitan.

Desde luego, por calidad no será, pues de eso el disco anda más que sobrado, y sin renunciar a esa particular forma de hacer música de que hace gala Will Sheff. Eso sí, como arrepintiéndose de lo deprimente y oscuro que resultaba su anterior trabajo, esta vez parece haber decidido dar algo más de alegría a sus oyentes. La mera portada del disco ya es una declaración de intenciones a ese respecto, dejando paso el negro dominante de la carátula de su anterior trabajo a la viveza del naraja y el amarillo de este diseño de William Schaff.

Tranquilos, que la autocompasión enfermiza sigue ahí, como muestra el tema de arranque Our Life Is Not A Movie Or Maybe o la llorona A Girl In Port, pero intercalándose entre ellas otros temas que no buscan hundir en la miseria al oyente, como You Can't Hold The Hand Of A Rock And Roll Man o la sencillamente genial Unless It's Kicks, una canción tan buena que ya merece la pena oír el disco por ella sola.

Pero ya sea rozando el llanto o las ganas de dar palmadas, los temas que conforman este disco son verdaderamente buenos; me encanta esa forma que tienen de ir creciendo, poco a poco, a veces por medio de la voz cuajada de sentimientos de Will, a veces mediante las sencillas escaladas de piano, otras muchas veces a través de una solitaria guitarra acústica, y siempre con el estupendo trabajo de Travis Nelsen con las baquetas.The Stage Names es un disco hecho para gustar desde la primera escucha, es un disco mediante el que no se ha buscado inventar nada, pero que tampoco se ha visto sujeto a ideas musicales preconcebidas. El cuarto álbum de Okkervil River no estará entre los más vendidos del año, ni lo intenta, pero estos nueve temas son buena música con todas las letras."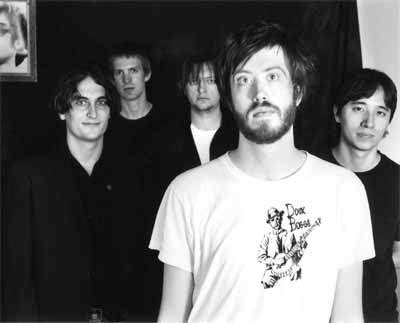 Grupo: Okkervil River
Disco: The Stage Names
Año: 2007
Web oficial:
http://www.okkervilriver.com/
Canciones destacadas: Unless It's Kicks, A Hand To Take Hold Of The Scene, John Allyn Smith Sails, Plus Ones y Savannah Smiles